Halo Top just keeps coming through and helping us indulge in everything we're not supposed to have. Ice cream? Was supposed to put a limit on eating that so long ago. But how can I when Halo Top has ice cream out here with full pints at just 120 calories? Even worse, or better I guess, they now have popsicles with only 60 calories!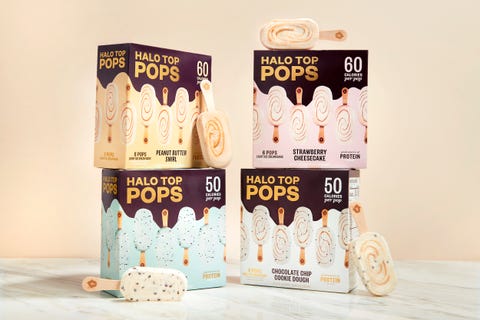 The new Halo Top Pops aren't just super healthy, but they also have some variety! You can enjoy 60 calories of either Chocolate Chip Cookie Dough, Mint Chip, Peanut Butter Swirl, or Strawberry Cheesecake. Y'all already know how I feel about chocolate chip cookie dough. Whew, it's gonna take a miracle not to overeat these if I decide to try them. Each flavor's box comes with 6 pops so each box can't last you a week or maybe just a day depending on your self-control.
Halo Top Pops will be everywhere this Spring but a lot of stores already have them in stock. If you want a FREE box, all you have to do is go to their site at 12 pm EST on Valentine's Day and claim yours before they run out!