Buffalo Wild Wings Introduces New Buffalo Chicken Tender Burger
Restaurants are definitely competing for the craziest menu items. This one, I admit, I'm a little excited for. Buffalo Wild Wings is taking it to another level with their new Buffalo Tender Stacked Burger. Yes it's like it sounds. There are actual buffalo tenders smack dab in the middle of the burger.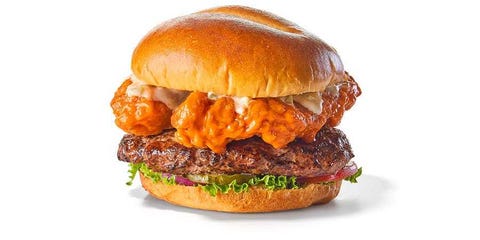 I'm all for protein so I can't be mad at the decision to keep the regular beef burger patty on this tender burger. Can you imagine trying to finish this thing? It's huge but probably has a lot of flavor that would make it worth it. It isn't on BDubbs' menu for long so I would go sooner than later if you want to try it!