Certain snacks can come out with a million different flavors and rarely miss. Oreo and Lays are definitely two that can pull it off and it looks like M&M's is another. M&M's just announced they will be releasing international themed flavors a couple of weeks ago, but now they have a Hazelnut Spread flavor! They're also working on a new product: M&M's Milk Chocolate Bars!
Can you imagine it? Hazelnut Spread M&M's will literally be like eating two of the best snacks at one time. Instead of biting an M&M and tasting milk chocolate, you'll taste the deliciousness of hazelnut spread instead.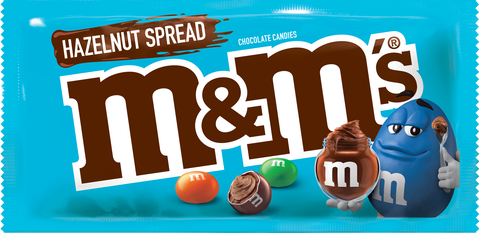 As for the candy bars, they're releasing them in some of their best flavors (crispy included!!). It will literally be bars of milk chocolate with mini M&M's inside. Starting this December you can try a Milk Chocolate, Peanut, Crispy, Crispy Mint, or Almond M&M's bar. If you'd rather wait for the Hazelnut Spread M&M's, those won't be available until next April. I'm here for all the M&M's snacks!